I rarely ever post political things. This isn't because I don't have an interest or a desire to be aware of politics. It is because politics are one of the most polarizing arena's and, call it "middle child syndrome," but I constantly feel the need to play referee in the fray.
Last week, Nike released an ad showcasing the very controversial Colin Kaepernick (as you may recall, it was Kaepernick who started the movement of not standing during the national anthem). At first, Nike's stock plummeted. The right-leaning supporters pointed fingers in a childish "serves you right" kind of way, just to have the stocks start to rise again days later, which then had the left-leaning supporters pointing fingers in a "I told ya so" kind of way. And thus, explains my hesitance to ever get into the middle of these kinds of things…
The truth of what actually happened unsurprisingly lies somewhere in the middle. Nike was in the midst of it's most successful year ever before the ad. Then the ad hit and their stocks plummeted briefly, but then soon after, they began the same trajectory upwards that they had before and made it all too convenient to say "Nike hits record stocks after Kaepernick ad!".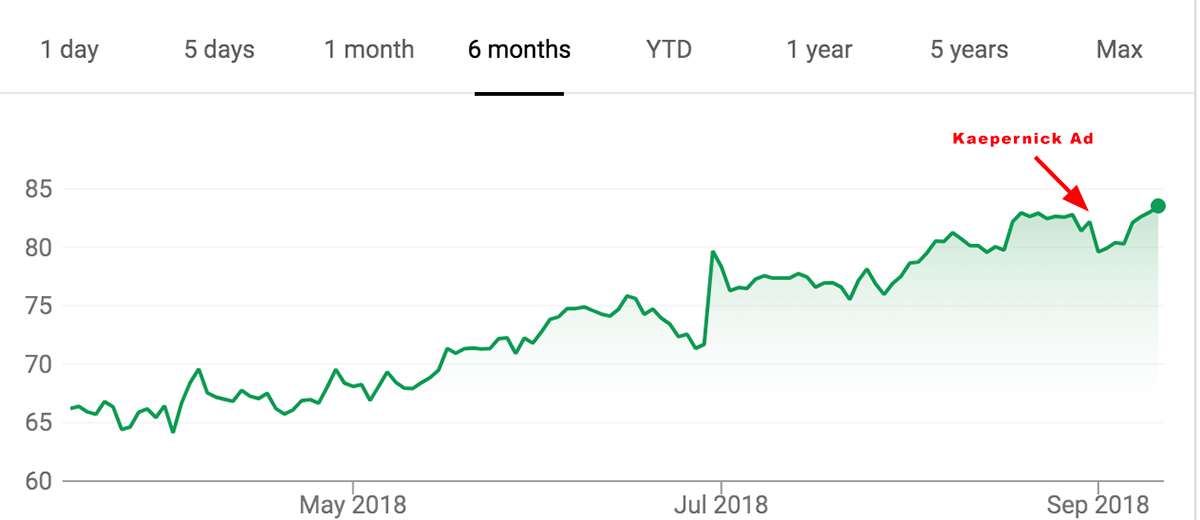 So now to the actual moral issue at hand: Let's be clear, Nike is not a humanitarian company. Nike has frequently been plagued by humanitarian horrors, and it's plagued them since their cruel working conditions were uncovered in the 90s:
"Workers complain that many faint during shift from exhaustion, heat, fumes and poor nutrition. Ernst and Young similarly found in China that the plants have no safety goggles, fume hoods or gloves for workers handling dangerous chemicals such as benzene and toluene, a known carcinogen that poses a fatal risk. Exposure rates were upwards of 177 times that considered dangerous. In the same Chinese factory, almost 78% of the workers had a respiratory disease. Despite the respiratory illness, not one of the workers had been moved to a department that was free from these dangerous chemicals."
It took a CBS special investigation to finally bring those horrors to the public light, and only then did Nike agree to adapt a Code of Conduct. However:
"According to the Educating for Justice group, between 50 and 100 percent of Nike factories require more working hours than those permitted by the Code of Conduct. In 25 to 50 percent of factories, workers are required to work 7 days a week, and in the same percentage of factories, workers are still paid less than the local minimum wage."
Let's not forget, Nike builds these factories in places like Vietnam and South Africa because they can get away with paying them $73.94 and $31.43 per MONTH, respectively. It would take 2 months for Nike to have paid one of their Vietnamese workers what they will sell one pair of shoes for.
So as far as ethics go, it seems all too American of us to flood to the stores to support Nike because of an ad that they ran, without even stopping to consider if they are putting their money where their mouth is. Nike doesn't care about people. Nike cares about money.
So then there's the curious experiment about our nation: perhaps it says a lot about the civil rights movement if Nike's stocks rise? Or perhaps it says a lot about the right-leaning movement if Nike stocks take a hit? Party wars are fun right? Because it's like cheering on your favorite football team. Except it's not. Try explaining to a Vietnamese woman — who works ungodly hours and still can't make enough to live — that the reason you're cheering on the corporation that is oppressing her is because of a fun political party rival. Besides, the fact that Nike is having a record year in sales is something to celebrate right?
If the left were to actually care about human rights more than their "party badges," they would have called Nike out for their hypocrisy and boycotted Nike for attempting to use an ad to pander and manipulate the left into believing that Nike, as a company, cares about people.
The right constantly complains that they are falsely accused of cruelty, when in fact, (or so they would claim) they are the one's who are helping people. If that's the case, then your Nike shoe-burning social media posts and boycotts should have started a long time ago, not just when it became a convenient club to bash the left with.
Lastly, if Colin Kaepernick actually cared about humanitarian efforts, he would have done his homework and refused to be the face of a company that cruelly takes advantage of the laws of 3rd world countries in order to exploit the people working there.
Right, left, conservative, liberal — I'm frustrated by the smokescreens that everyone buys into. What if we stood on principles instead of parties? Maybe then we could actually get something done.
See? I told you, it sucks being the referee.