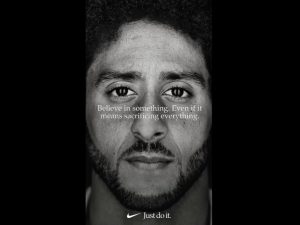 I rarely ever post political things. This isn't because I don't have an interest or a desire to be aware of politics. It is because politics are one of the most polarizing arena's and, call it "middle child syndrome," but I constantly feel the need to play referee in the fray.
Last week, Nike released an ad showcasing the very controversial Colin Kaepernick (as you may recall, it was Kaepernick who started the movement of not standing during the national anthem). At first, Nike's stock plummeted. The right-leaning supporters pointed fingers in a childish "serves you right" kind of way, just to have the stocks start to rise again days later, which then had the left-leaning supporters pointing fingers in a "I told ya so" kind of way. And thus, explains my hesitance to ever get into the middle of these kinds of things…
The truth of what actually happened unsurprisingly lies somewhere in the middle. Nike was in the midst of it's most successful year ever before the ad. Then the ad hit and their stocks plummeted briefly, but then soon after, they began the same trajectory upwards that they had before and made it all too convenient to say "Nike hits record stocks after Kaepernick ad!".
…
Continue reading

Of Nike, Kaepernick, and Referees